Leaders and top officials from around the world were arriving at the United Nations Monday in advance of the annual General Assembly session, providing opportunities for high-level contacts between allies and rivals alike.
On Monday evening, U.S. Secretary of State Antony Blinken met with Chinese Vice President Han Zheng on the sidelines of the assembly in New York, the latest in a series of meetings between the countries aimed at reducing tensions.
In a statement following the meeting, the U.S. State Department described the talks as 'a candid and constructive discussion.'
Ahead of the talks, Blinken said in brief remarks that 'the world expects us to responsibly manage our relationship.'
Han said that U.S.-China relations face "difficulties and challenges" and said both countries should make additional efforts to "meet each other half way."
The talks come shortly after U.S. national security adviser Jake Sullivan met with China's foreign minister, Wang Yi, in Malta. The high-level talks could help bring about a meeting between U.S. President Joe Biden and Chinese President Xi Jinping later this year.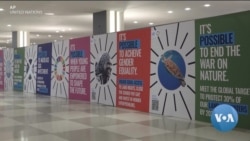 Embed share At UN Summit, Ray of Hope for Sustainable Development Goals Embed share The code has been copied to your clipboard. width px height px
No media source currently available
Biden also arrived in New York Monday. He is set to hold a series of meetings during the week, including with U.N. Secretary-General Antonio Guterres, Israeli Prime Minister Benjamin Netanyahu, Ukrainian President Volodymyr Zelenskyy and Brazilian President Luiz Inacio Lula da Silva, the incoming chair of the 20 largest economies, or G20.
The U.S. president will not have the opportunity to meet with some of the biggest U.S. adversaries who are skipping the gathering. Russian President Vladimir Putin, facing an arrest warrant from the International Criminal Court, will not be attending. Neither will China's Xi, or his top diplomat, Wang.
Earlier Monday, officials from around the world focused on accelerating efforts to achieve worldwide development goals, with progress lagging far behind schedule.
Guterres told the summit of leaders that only 15% of the 17 Sustainable Development Goals (SDGs) are on track to be reached by 2030.
Biden to Rally Support for Ukraine at UN Amid Global South Concerns
'Instead of leaving no one behind, we risk leaving the SDGs behind. ... The SDGs need a global rescue plan,' Guterres said.
He said the summit is "the moment for governments to come to the table with concrete plans and proposals to accelerate progress."
The goals include ending poverty, ending hunger, ensuring access to affordable energy, taking urgent action to combat climate change and promoting gender equality.
They were set in 2015 with the aim of being achieved by 2030. Halfway to that marker, progress is trailing, and in some instances is even going backward.
A July report said climate crisis impacts, lingering effects of the COVID-19 pandemic, the war in Ukraine and a weak global economy have hurt progress toward reaching the development goals.
Leaders from the 193 U.N. member nations adopted a 10-page declaration by consensus on Monday, recognizing that the goals are "in peril."
The General Assembly session begins on Tuesday, when Biden and Guterres are scheduled to speak.
Zelenskyy is also set to address the assembly Tuesday and plans to attend a meeting of the U.N. Security Council on Wednesday.
Apart from a focus on the worldwide development goals, the U.N. gathering will also spotlight climate change with the U.N.'s Climate Action Summit on Wednesday. Guterres will host the event, which aims to reverse backsliding on Paris climate agreement goals.
The U.N. has yet to announce which world leaders will speak at the climate summit. More than 100 countries' representatives have told Guterres they want to speak, according to Reuters.
Some information for this story came from The Associated Press, Reuters and Agence France-Presse.